*Please note, this stock will be the last to price at R60.00. With ever-increasing price increases, new stock will be priced higher. – updated on 8 November 2022
Kathu Kat Beauty's Aloe Gel comes in a reusable 50 ml glass pot with an aluminium lid with an easy to remove label.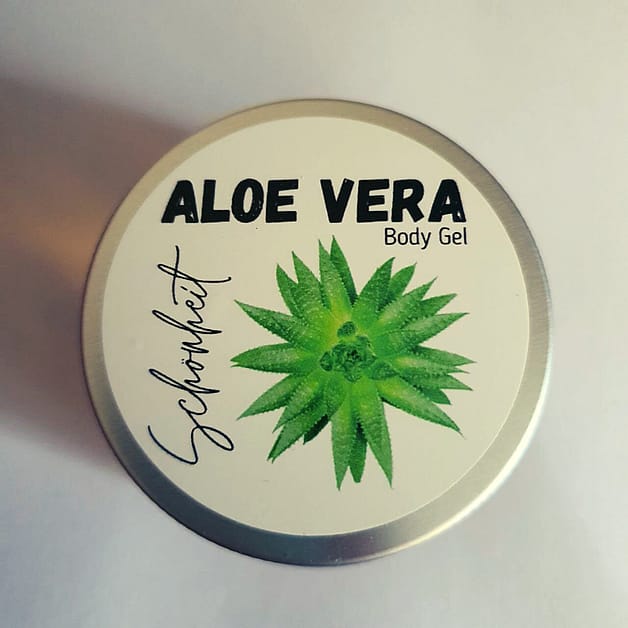 About our Aloe Gel
Our aloe vera gel is produced from locally and organically grown aloe vera plants in Mpumalanga, South Africa.
Although Aloe Vera contains almost 98.5% water, it contains over two hundred compounds, and more than seventy-five essential bioactive ingredients, including minerals, enzymes, amino acids, vitamins, lignin, saponins, and polysaccharides. The combination of these numerous ingredients in Nature's calculated balance makes the Aloe Vera plant truly beneficial.
---
Remember that everything you apply to your skin is absorbed into your body and into your liver, so make sure that you only use 100% natural ingredients that do not contain any parabens or synthetic preservatives.
---
Benefits of Aloe Vera Gel for your skin
Aloe Vera Schönheit Body Gel can be used for the following:
sunburn
dry and chapped skin like heels and elbows
acne and breakouts
ingrown hairs from shaving or waxing
as part of your nightly skincare routine, applied before night cream
anti-bacterial wound treatment
relief from psoriasis or eczema
it can increase the natural collagen production of the skin and thus reduce the appearance of fine lines and wrinkles
home-made facial masks (recipes found at the link below)
To read more about this product please click here.
As with any natural product, allergic reactions are possible. Please test this product on a small patch of skin on the inside of your arm 24 hours before using it on the rest of your body. This is not a pharmaceutical product and should not be used instead of prescribed medicine. Please contact your doctor if you have severe symptoms that require medical attention.
Interested?
This product makes great wedding favours (unlabelled on request), gifts for men and women, boys and girls, people who struggle with skin problems or just as a thoughtful gift to say thank you.
Click here to buy this product now.
---
Amazon Affiliate Links
Read the disclaimer here.