Are you craving a PB & J but your jeans don't fit anymore because of the "J"? Read on fellow snacker.
You just woke up and you're having a brilliant cup of coffee, and then instead of breakfast, you're craving something else. Make this! Working at your computer all morning and then you start feeling a little light-headed like you might need a snack. Make this! Okay, you get my point. This banana and peanut butter snack is an all-rounder and very easy-to-make snack. You can also use other nut butter if you don't want or like peanut butter.
I like the roasted and salted peanuts on top, but to lower your sodium intake you can skip the peanuts entirely, or just use unsalted peanuts. The banana is also sweet already, so the syrup/honey is totally optional.
This is also a kid-friendly recipe as you can easily teach toddlers to make this. Just give them a plastic knife to cut the banana with.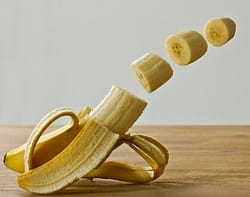 Banana & peanut butter snack
When you're bored and you want to stuff something in your pie-hole, but you don't know what? This recipe is for you!
Ingredients
1

banana

per person

2

tbsp

peanut butter

smooth or crunchy

2

tbsp

salted peanuts

optional

1

tbsp

golden syrup

or honey
Instructions
Peel the banana and cut it in half lengthwise.

Take a spoon and put clumps of peanut butter on the banana. The banana is slippery, so spreading it with a knife doesn't really work. I used my fingers.

Add a little syrup or honey if you want it very sweet. You can leave this out of the banana is sweet enough for you.

Add crunchy, roasted and salted peanuts on top.