This beef and vegetable soup is extremely delicious. Like all delicious things, this soup takes time and it will take you two days to make! You can make it in less time by using a pressure cooker or using meat without bones, but then you will have subpar soup.
The recipe below is the standard version. You can always add some Worcestershire sauce at the beginning after adding your bones. You can add some tomato puree for an extra umami flavour kick, it's up to you! Personally, I love adding about half a can of tomato puree as it makes the soup extra special. You can add your own variation to make this recipe your own.
By adding beef bones and simmering the soup until the bones are meatless, you extract the gelatin and flavour from the bones. It is very tasty and extremely healthy for you! That is why you overnight the soup in the pot and you simmer it for as long as you can with the bones in.
This soup freezes very well so you can make this and save it in the freezer to stock up. There are days when you're not in the mood to cook, or when the food budget might be running low. Then this is the soup for you and your family.
What to eat with beef and vegetable soup?
You can make this easy sweetcorn bread to eat with your soup – they compliment each other like gin and tonic! Speaking of, click here for 15 easy and creative gin and tonic recipes that you can make while you wait for your soup to mature!
If you liked my beef and vegetable soup recipe please consider sharing it with your friends. You can also let me know what you think in the comments below!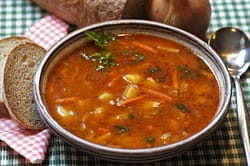 Beef and Vegetable Soup
This is the heartiest and tastiest soup you will ever make. Some might even say your soup tastes better than their mom's!
Equipment
crock pot / slow cooker OR

big pot to cook on stove
Ingredients
3

tbsp

olive oil

3

chopped onions

1

tbsp

garlic flakes

1

tbsp

chili flakes

1

tbsp

dried mixed herbs

2

kg

beef bones with some meat on them

2

kg

chopped vegetables

you can use any vegetables you like

10

oxtail stock blocks
Instructions
Add the olive oil, onions, garlic flakes, chilli flakes, and mixed herbs to your pot or crockpot.

Put your slow cooker on low or if cooking it on your stove top, put the heat on the lowest setting.

When the onions start to get translucent, add your beef bones and cover it with boiling water. The bones have to be submerged.

The bones have to simmer until the meat start falling off the bones. Keep topping the pot up with water to keep the bones submerged.

When you see the meat starting to come off the bones you can add the vegetables.

After adding the vegetables you can simmer the soup for about an hour or two and then you can turn off the stove or slowcooker and let the soup overnight in the pot.

Start simmering the soup again the next day. As soon as all the meat have come off the bones, you can remove the bones from the soup.

If there are big pieces of meat you can take them out, cut them smaller and return them to the pot. Add more boiling water if the soup gets too thick.

Finally you can add the stock cubes. First add 5 cubes by cutting them into smaller pieces and adding them to the soup. Stir thoroughly and taste the soup and then add more stock cubes until it's seasoned enough for your taste.