Braaibroodjies are a type of sandwich that is typically grilled or cooked over an open fire, also known as braaing. They are a popular side dish in South Africa and are made by filling slices of bread with various fillings. They are grilled until the bread is toasted and the fillings are warm. Braaibroodjies are mostly eaten as a side dish at a 'braai' (barbecue) along with various salads.
Braaibroodjie variations
To make this a main meal, you can add fried bacon slices, or cooked chicken to your braaibroodjie before grilling it on the fire.
The recipe below is how I make my braaibroodjies. This is the end result of years of trying different combinations of ingredients, some more successful than others. So far, this is the one I like best!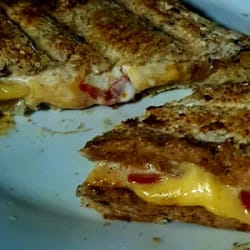 Kathu Kat Braaibroodjies
This is my favorite way to make braaibroodjies!
Equipment
1 wood fire

medium hot coals

1 grill

1 saucepan

1 spoon
Ingredients
8

slices

fresh wholegrain or brown bread

white bread is too weak to hold all the good stuff

good quality soft butter (like Lurpak) to spread on both slices

optional but definitely recommended

2

onions

finely sliced

1

tsp

barbecue spice

1

tsp

mixed herbs

1

clove

garlic

minced

4

tsp

chutney

4

tsp

good quality mayonnaise

you won't taste this, this is for creaminess

½

tsp

salt

2

tomatoes

thinly slices (you don't have to peel it)

8

slices

cheddar or gouda cheese

do NOT use processed cheese
Instructions
Take two slices of bread out of the bag and open them up like a book. These make the insides of your braaibroodjie. When you're done you will close them like a book again. Do this three more times so that you have 4 pairs of bread.

Take two onions, and slice them up very thinly. Put them in a saucepan (no lid) with a little bit of water (to create steam) and some barbecue spice, garlic, and mixed herbs. You can boil this on high heat until the onions are soft and translucent and all the water has evaporated. You can also add a little bit of butter here if you want.

While the onions are cooking, spread a thin layer of butter on all the slices.

On the left slice (of the pair), add a thin layer of mayonnaise.

On the right slice (of the pair), add a thin layer of chutney.

Add thin slices of tomato to the chutney side and season with lots of salt and pepper.

Add the slices of cheese on top of the tomato (slices work better than grated cheese)

When the onions are soft and translucent let them cool down for a few minutes and spoon the mixture onto the slice with mayonnaise on it.

Carefully close the slices together (like a book!) and pile them on a plate.

Before putting your braaibroodjies on the grill, you need to make sure that your coals are not TOO hot. An easy way to test this is to add all your braaibroodjies to the grill (high above the coals) and to turn them immediately (VERY carefully – otherwise your ingredients will fall out) after you've added all of them to the grill. If the first one has started to turn brown rather quickly, you might need to take them off and wait some more for the coals to cool down. You want your braaibroodjies to take about 10-15 minutes to get them to toast an even golden brown color, and to make sure the cheese is thoroughly melted.

Tag me @KathuKat on Instagram with your braaibroodjies #ProudlySouthAfrican