Is Crunchie your favourite chocolate? If it is, then these Easy Chewy Crunchie Cookies will be your new favourite cookie! I'm sure you've seen these cookies in every supermarket you've ever visited, but there is nothing better than making your own. You can make these even crunchier and chewier by baking them for a bit longer. They are the perfect accompaniment to your afternoon tea or coffee.
This is also the perfect snack to pack into those ever empty lunchboxes. They do not contain too much sugar, so there are no dreaded sugar crashes. The oats keep you satiated and curbs all your cravings, except the craving for more of these crunchies! For your lunchbox, you can pair your Easy Chewy Crunchie Cookies with a healthy salad or a healthy sandwich, with some bottled water to wash it all down with. None of us is drinking enough water so we should actively make drinking water a part of our menu planning. Grownups drink wine though, but that would not pair well with this cookie unless you're planning on serving some dessert wine. In that case, this will go well with a Hanepoot Jerepico!
If for some reason you don't have cinnamon, or you don't like cinnamon, you can replace it with a teaspoon of high-quality cacao. This hot tip comes from my sister, who had no cinnamon in the house after preserving some beetroot. Thanks, sis!
Another variation that would also be delicious (and a bit more sinful) is to add chocolate. After you have cut your crunchies but before taking them out of the baking sheet, melt some chocolate to pour over the top. Make sure you spread the melted chocolate over the entire surface. Place your crunchies in the fridge for the chocolate to set and then try not to eat everything at once.
For more cookie ideas to pack in lunchboxes, click here.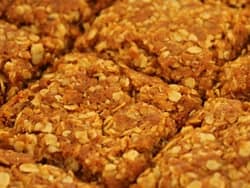 Crunchie Cookies
Are your kids nagging you for a snack all the time? Do you feel guilty when you feed them unhealthy snacks? You don't? Neither do I! But here is a relatively healthy recipe for crunchie cookies that you can feed the kids and husband in your life. Or just yourself. More for you then, right?! Enjoy!
Equipment
baking sheet

spatula

measuring cup

wooden spoon

baking paper

cooking spray
Ingredients
1.5

c

shredded coconut

0.5

c

cake flour

2

c

oats

no instant oats

0.5

c

sugar

white or brown

0.5

tsp

salt

1

tsp

cinnamon

0.5

c

butter

140 g

2

tbsp

golden syrup

0.25

c

milk

full cream

1

tsp

bicarbonate of soda
Instructions
Dissolve the bicarbonate of soda in the milk and set it aside.

Add all the dry ingredients together (coconut, flour, oats, sugar, salt, cinnamon).

Heat the butter and the syrup on the stove or in the microwave until it is melted and starts to simmer.

Add the milk and bicarbonate of soda mixture to the dry ingredients.

Add the butter and golden syrup mixture to the dry ingredients.

Mix well with a silicone spatula or with your hands. The mixture is very dry but should hold together if you squeeze it. If not, add a little bit of milk.

Spray a medium-sized baking tray with cooking spray and then line it with baking paper.

Bake it for about 20 minutes at 180°C/350°F. Each oven differs, so be sure to check after 10 minutes.

After 10 minutes I cut my cookies already and then I put it back again for another 10 minutes. The longer you bake these, the crunchier they get. If you like a softer cookie, you can test them after 10 minutes or so.