Are you craving something and you feel like you need to maybe eat something healthy for a change? Make yourself some hummus because it is great at curbing cravings as well as being healthy for you!
Did you know there is such a thing as International Hummus Day? Luckily we don't have to celebrate hummus only on May 13th, we can celebrate hummus ANY day. If you're not familiar with hummus, you can read more about its history here.
I think the very first time I made hummus I was still attending University at Stellenbosch. I have always liked foreign cuisines and trying new food. If you've ever watched the Food Channel or any type of food show, you're probably the same. You see the chefs making something and then you're like, that doesn't look too hard? Next thing you know you're googling recipes and writing down ingredients on your shopping list.
That's how it's always been for me anyway. Cooking and trying new things makes eating a journey, and not just the destination of filling up your stomach. I believe we received tastebuds for a reason, so the journey of eating should be a culinary adventure that is exciting! Or at least not something that we should just endure. I have met people who simply just eat to exist. They have no love for cooking or for eating tasty things. How terribly sad!
Be sure to buy some chickpeas the next time you go shopping and make this for your family, even the kids will love this and it is truly tasty as well as healthy.
DISCLAIMER: You WILL eat more than one serving of this hummus, but don't fret, you're definitely not the only one!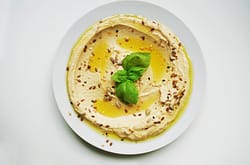 Hummus
This hummus recipe is for EVERYONE! It is also vegan friendly.
Ingredients
2

cups

canned chickpeas

1/2

cup

tahini

(sesame paste)

1/4

cup

sesame oil

or olive oil

1

clove

garlic

salt and pepper to taste

1

tbsp

ground cumin

1

lemon

1/3

cup

water

1

tsp

olive oil
Instructions
Place everything except the water and one tablespoon of olive oil in the food processor and blend. Add water as necessary to make it smooth.

Taste and add more garlic, salt, lemon juice, or cumin as needed.

Serve in a bowl, drizzled with some olive oil and sprinkled with some cumin. You can eat it with chips, crackers, vegetables, or pita.