It happens to the best of us. You think there is still time to plant your tomatoes, and then just before they turn red, the frost comes and your plant is killed horribly. You are left with tomatoes as green as the Hulk. What do you do with them? I hate wasting ANY food, so what I did with my green tomatoes was cook a delicious green tomato chutney.
This chutney goes well with a variety of meat and cheeses, and it goes EXTREMELY well on a braaibroodjie!
Don't know how to grow your own tomatoes? Click here.
If you want a spicy green tomato chutney, you can watch this video.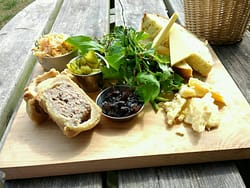 Green Tomato Chutney
Did frost kill your tomato plant? Here is a great and versatile recipe for you to use your green tomatoes instead of throwing them away.
Ingredients
1

kg

green tomatoes

chopped up with skin on

1

kg

red onions

peeled and chopped

150

g

pitless raisins

3

cloves

garlic

1/4

tsp

cayenne pepper

1/4

tsp

black pepper

2

tsp

salt

500

g

brown sugar

1

litre

brown vinegar
Instructions
Chop the tomatoes, onions, raisins and garlic.

Place all of the ingredients in a large pot and simmer uncovered.

The chutney is ready when it appears thick and dark brown. This can take up to three hours or longer.

Spoon the chutney into preserving jars and close firmly.

Turn the jars on their heads.