Most of the time I try to eat healthy foods only, but then I remember that life is fleeting and key lime pie exists. We didn't even own a pie dish before this, I had to go and buy one specifically for it. This pie is very easy and your family will love you for making it. DISCLAIMER: Do NOT make this if you're in any way trying to lose weight. Unless you're very active like my boyfriend and you burn 3 000 calories per day.
Depending on where you live, limes might not always be in season. If that is the case, buy a lot of limes when they are in season and freeze them whole until you need them. That way you will always have the option of making this pie whenever the need arises.
These types of pie crusts tend to be crumbly, but they should hold their shape when you press them in your hand. If the crumbs don't hold together, add a little more melted butter so that you are able to press the crumbs into the pie dish without it falling apart. Instead of Tennis Biscuits, you can also use Digestive Biscuits or Graham Crackers (USA peeps) for the crust.
This Key Lime Pie is perfect to make for afternoon tea, Mother's Day, and even when you have unexpected guests.
Instead of topping your Key Lime Pie with whipped cream, you can also top it with meringue. You can find an easy recipe for it here.
Give this key lime pie a try and let me know how it went by rating the recipe commenting below.
Another great snack (and a healthier one) to make for when you're peckish can be found here.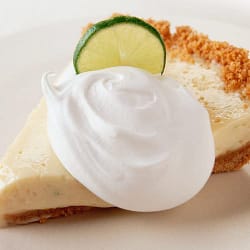 Key Lime Pie
Be sure to serve this only to people you really like, because they will come back to your house for more!
Equipment
mixing bowl

whisk

silicone spatula

pie dish

medium-sized pie dish (about 23 cm in diameter)
Ingredients
100

g

butter

1

packet

Tennis Biscuits

(200 g)

2

whole

eggs

1

can

condensed milk

1/3

cup

freshly squeezed lime juice

1

cup

heavy cream

2

tbsp

confectionar's sugar

1/2

tsp

vanilla extract
Instructions
To make the crust, melt the butter in a small saucepan.

Put the Tennis biscuits into a food processor.

Add the melted butter to the biscuits and process until well blended.

Spray a medium-sized pie dish with cooking spray and press the crumbs into the bottom and sides.

Pre-bake the crust for 8-10 minutes at 180°C (350°F).

Cool on a rack before filling.

In a mixing bowl, beat the two eggs until combined and add the condensed milk.

Slowly add the lime juice while whisking. The mixture will thicken.

Pour the filling into the warm crust and bake until just firm, for about 10-15 minutes at 180°C (350°F).

Remove from the oven and place on a cooling rack for about 10 minutes and then put it in the fridge.

In a mixing bowl beat the heavy cream, confectioner's sugar and vanilla extract until the cream holds stiff peaks.

Spoon the cream over the pie and put it back in the refrigerator until it is time to serve.